Any woodworkers out there? My novel's protagonist, Reed, is a fireman, but aspires to start his own business around the craft, turning out custom furniture and other items for the home. When he had dated his wife, Lily, he took her to a co-op workshop. Under his steady hand, she learned the fundamentals, and learned more about the man she loves.
I'm not handy. Instead, I build websites. Though very satisfying, the end products are not ones you can gift-wrap or dwell in. I think it would be awesome to have a workshop with an array of tools, tables, and materials.
I've not worked on anything since high school, but while thinking on Reed and his avocation, I happened to visit a local store that supplies all things related to woodworking. I recalled my mentor had taken up the hobby of building cigar boxes and pens. I wondered if I would find an opportunity to do the same. Sure enough, as soon as I entered the shop, I beheld a prominent display with signs for classes, including one for making pens. A literal sign! The stars aligned. The pen-making class was this very weekend, so I signed up.
I really enjoyed it. Under the instructor's patience and expertise, the six of us students turned blanks of black walnut into finished pens. My technique on the lathe still needs refining, but I am quite pleased.
Here's the result: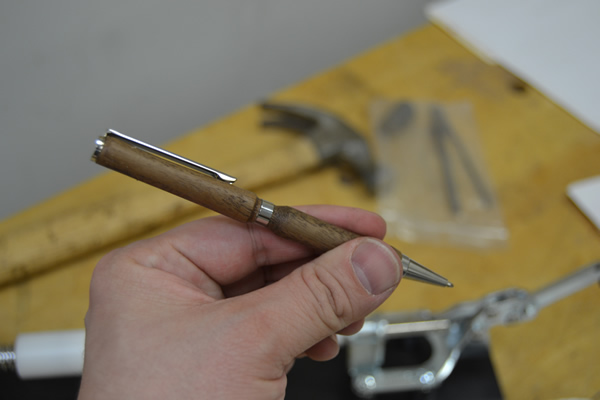 It would be wonderful to craft more – for presents, and perhaps one day, for sale. Oh no, I've become my character!