Download Author Information (PDF 2.2Mb)
Download Shadows Within Information (PDF 219Kb)
Download Shadows Within Excerpt (PDF 1.26Mb)
About J. P. Cane
J. P. Cane is a long-time reader and first-time writer of vampire stories. His debut novel, Shadows Within, begins The Shadowless series, largely set in his hometown of Philadelphia. He hosts a podcast on writing and, as a member of James River Writers, enjoys supporting fellow writers. He and his wife live in Virginia.
Synopsis of Shadows Within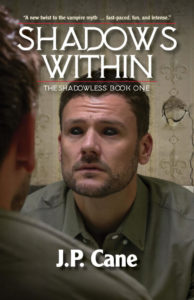 Firefighter Reed Williams and his bride, Lily, are enjoying their long-awaited honeymoon in Paris. But bliss turns to agony when they're assaulted along the Seine and Lily is murdered.
Now Reed is plunged into a world of bloodlust and horror, led by a woman who offers immortality at the price of his humanity.
Nothing makes sense. Reed doesn't breathe, doesn't have a pulse, and doesn't even cast a shadow. His loss of Lily is all the more terrifying as he experiences visions of crows stealing his memories of her and all that he holds dear. Overwhelmed, he flees his relentless pursuers for home in Philadelphia.
Back in the States, he stumbles upon three unexpected allies, who, like Reed and his attackers, have non-beating hearts and shadowless bodies. The trio–a brilliant, but socially graceless linguistics professor; a grifting ladies' man without a past; and a penitent hitman trying to atone for the widows he's made–must pull Reed back from reckless despair and help him remember his heroic self in order to defeat those who want to claim his soul forever.
Endorsements
"J.P. Cane's book brings a new twist to the vampire myth that's fast-paced, fun, and intense."
— Bill Blume, author of the Gidion Keep vampire hunter books

"Once in a while, a novel comes along that feels like a fresh take on the horror of vampires. Cane has created a world and characters you won't forget, written with a literary beauty. This one is a keeper."
— Erica Orloff, best-selling author of Urban Legend
Excerpt from Shadows Within
Professor Malcolm Gold had been confounded by Grace's detachment in his class this evening. She didn't move except for her steady breathing and a finger that caressed a creased paper held in her hands. It was as though a doll of her likeness was deposited in her place. Worse—she didn't raise questions or answer his. Only in the absence of her voice had he realized the light it brought to his lectures.
Normally animated, Grace sparkles in the lecture hall or here in the coffee shop, where they meet after the evening class. Her words paint delicate worlds before his eyes and sing in his ears, lifting him from monotony. She will come tonight, won't she? He checks the entrance, but sees only a student wave and take a seat on an overstuffed couch as his friends scoot aside.
Malcolm sits here after his evening lectures, reading peer studies, grading papers, and allaying students' concerns. The Blue Cup is a favorite in the University City area of Philadelphia. Students from the surrounding campuses can be found here from fresh-baked-muffin mornings till stale-coffee closings, gabbing with friends or cramming for exams. Malcolm considers this his office more than the one on campus. The informal atmosphere makes him accessible to his students.
Turning to his work once more, Malcolm slouches in his seat, the cuffs of his black slacks not reaching his ankles, revealing white socks in comfy loafers. His lips move while he reads a university textbook. His voracious mind speeds through the academic volume; left eye on the left page, right eye on the right page, each zipping top to bottom. His hands keep pace; one jotting notes in tight cursive across a legal pad, the other turning the pages.
In his youth, Malcolm had absorbed stories of people with extraordinary mental prowess—those who could memorize shelves of books or learn languages in days or solve computations in their heads. Inspired, Malcolm trained his mind with cerebral calisthenics, treating neurons as flexors, stretching and strengthening his mental acuity. Now he has reached a point where he can give complete concentration on two separate tasks simultaneously.
Delicate brown hands emerge from the edge of his peripheral vision. Unmistakable, their fine structure and long fingers that articulate a delightful language all their own belong to only one of his students. Malcolm looks up from his work. Grace Situ seats herself across their table, the one they have spent countless hours chatting over.