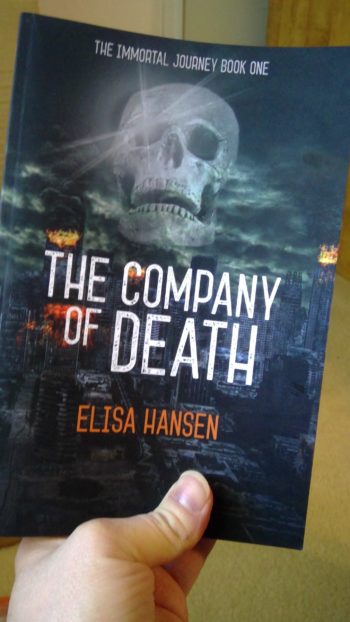 The most enjoyable novel I've read this year. Original, page-turning, fun and scary.
The personification of death, skeletal and robed, has lost its horse, scythe, and purpose in Elisa Hansen's post-apocalyptic world. Death must reach New York in order to set the world right and resume its life-reaping ways.
Told with multiple points-of-view characters, the story centers around Emily, one of several humans who works to free their kind from enslavement by vampires in locations called communes. Apparently before the world fell apart, technology such as robotics and artificial intelligence was further along than today, though now quite hampered by the scarcity of fuel and electricity.
When a planned raid on a commune goes wrong, overrun by zombies, Emily's life takes a strange and unprecedented turn. Even Death is stumped. Their destinies now entwined, Emily accompanies Death on its march to Manhattan.
Along the way they encounter Scott, also a human heading east. He had twice missed a chance to get to NYC by airship before the world ended. Now he's running on fumes, though not alone. With him is Carol, a laser-packing robot who reminds Scott of his sister, because she had built it.
With plenty of mistrust among the four, they must nonetheless work together to reach their destination, all the while being pursued by Leif, a long-lived vampire with his own agenda.
Hansen wonderfully sets up the characters and their motivations, and also raising the intriguing question: what happens when Death no longer reaps?
This is Book 1, so there is more to the story, but I think it ends at a good point after a suspenseful climax.
UPDATE/Spoiler-ish
I loved the scene when Emily is alone in the shed with Scott and her nose catches an irresistible scent. She must… she can't… but maybe just a little bit… no!