How could I do this? What did I get myself into? I'm going to either not having anything to say, or I'm going to sound like an idiot.
Those are some of my thoughts leading up to my first appearance as a panelist last month. (By the way, I don't know why it's taken so long to write about that evening. Thanks to my friend Mark for prompting me to do so.) It took place at Firehouse Theatre on the evening of Wednesday, May 30. The James River Writers talk was titled, "What I Wish I Knew Before My First Book."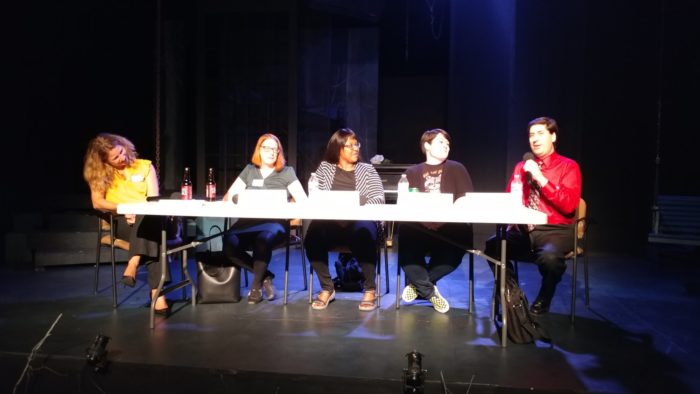 But those gnawing thoughts went away once I began answering the first question, which was to impart a quick example of a lesson learned from my indie publishing experience.
Before my answer, I first observed how I have been attending JRW Writing Shows since 2007 and now, being up on the stage, looking out (really squinting in the glare of the lights) at the packed room, I remarked how wonderful the experience was. The moment felt as though I had arrived. Very rewarding.
One of the lessons learned, I said, was to believe in yourself. It came down to me pushing a big red button to publish my book, letting it out for anyone to pick up and read. The button was daunting.
Could I really push it? What would my loved ones think of me when they read it?
I worried.
Needlessly.
I pushed the big red button and I'm very glad I did.
Book Launch Task List
In preparation of the panel I printed what I call a Book Launch Task List. (I wanted to be sure I had something to contribute to the discussion.) It's a one-sheet version of the spreadsheet I created in preparation for my book.
On the spreadsheet, I had listed every single thing that I would need to do leading up to pushing that button. Things from aspects of the book itself (format, title, author name), editing and proofreading, design, marketing, and more. Three printed pages worth.
For the one-sheet, I distilled  the spreadsheet down to the highlights, leaving room for the writer to write in their own. If you would like a copy, let me know.
Don't Over Edit
I recall during the question and answer period, someone in the audience asked how to know when you're done editing. Part of my answer was that you're never really done–there's always the temptation to change something, but you must be careful not to over-edit as you'll begin to make things worse. If you're whittling, there's a point where you chip away too much.
The evening went quick and I think we all did a terrific job to judge by the audience's close attention, their questions, and applause.
I will have to write up other lessons learned and share them. Be sure to check back.
How about you? What are your lessons learned?