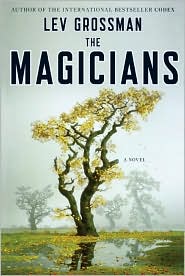 On the strength of another Fountain Books staff member's recommendation, I purchased a copy of The Magicians by Lev Grossman. I think it was released today in hardcover. I like the blurb by George Martin on the back, "The Magicians is to Harry Potter as a shot of whiskey is to a glass of weak tea." I added the novel to my Reading List (see the sidebar).
I wasn't planning on purchasing a book. (Damn my luck.) Fountain Books was hosting Chef Andy Howell of Cafe Rustica to celebrate the upcoming movie on the life of Julia Child. Chef Howell demonstrated one of Child's recipes for tuna salad which was very good.
If you're in the area, Fountain Books is having a Julie and Julia night at the new Bowtie Cinema theater in Richmond this Thursday at 7pm.