This July, I was on a 10-day tour of Switzerland that included lots of hot chocolate, majestic sights, humbling history, and friendly folk.
How can a writer not be inspired here? Helvetica is in the country's official name! (Confoederatio Helvetica)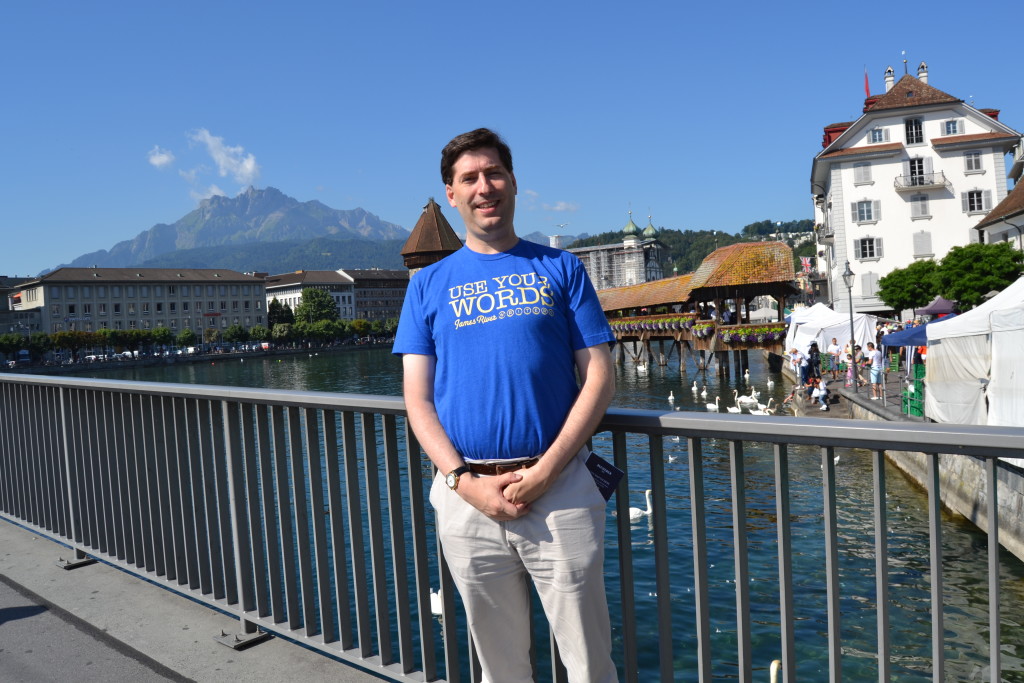 If you like cheese, there's 450 varieties. I enjoyed the raclette, a mild cheese, that's served in brick form under a heating element. As it bubbles and melts, you scrape off globs of it with a special knife onto fingerling potatoes, bread, or gurkins. Yummy!
If you like timepieces, they are everywhere. The Swiss have no excuse to be late to anything. Like Starbucks, there's just about a Bucherer, Rolex, or Cartier store on every corner, displaying gorgeous craftsmanship.
In Bern, the capital, there is a famous clock tower, the Zytglogge, that was built in the 13-century. Still keeps time.
If you like heights, the Swiss Alps are the place to go. My time in Zermatt, a charming picture-book town (you almost expect to find a gingerbread house among the chalets) coincided with 150th anniversary of the first successful ascent of the Matterhorn. The town made quite an event out of it. Everyone in town was out in the dusk, chatting, snapping pictures, sharing drinks. We all watched the lighting ceremony along the face of the Matterhorn. One by one, lights turn on marking the path taken by Edward Whymper and his team all those years ago. The setting sun stained the peak orange, together with the thick clouds made the mountain appear aflame.
Got the tee shirt. Literally: I purchased one commemorating the event, complete with the trail of lights.
We got a grander view of the mountain when we took a cogwheel train up to the Gornergrat (10,285 feet elevation). We had hot chocolate at the hotel there. Along the way up and back we saw lots of hikers. I would  love to have done that. I'll just have to come back.
We have higher to go! Near Interlaken, there is the Jungfrau (13,642 feet). We're in the clouds atop a glacier. We also got to go inside said glacier where the Ice Palace has been carved. Floor, walls, ceiling, all ice of the glacier. Rails for balance as you walk past fantastic sculptures. Really impressive, considering glaciers move, albeit, quite slowly.
I'm going to make a photo book. I really like how some of my landscape pictures turned out.
I'll pause for now. Maybe update later. The above are just some highlights. And I have a few ideas for short stories from the experience. Hope to write those and post as well.
Have you been to Switzerland? What do you think?