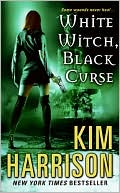 White Witch, Black Curse is the seventh in a series by Kim Harrison. A witch named Rachel Morgan tells her story of an alternate Cincinatti where vampires, werewolves and other creatures have emerged from hiding and are now integrated with human society. Rachel earns a living hauling in dangerous supernal suspects for authorities to process.
I don't recall why I had picked up the first novel when it came out, but I've enjoyed reading about Rachel getting in over her head and somehow surfacing in the end.
This installment promises to continue Rachel's search for her boyfriend's murderer while she deals with the crafty demon Al while introducing a new player in the game of screwing up her life.
Have you read any of these novels? What did you think?