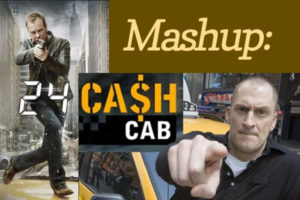 Seems a plausible crossover. Surely Jack Bauer, the hero of the television show, 24, would hop into a Cash Cab at some point. Let's see what might happen…
EXT: NEW YORK CITY — LATE MORNING
Our bird's eye view narrows on Manhattan. The bird glides downward as buildings become more distinct.
EXT: BANK PLAZA – MIDTOWN
Workers on their way to and from the glass entranceway. Doors burst open and we see JACK BAUER run out of the building. He's on a cell phone.
BAUER
… ambassador, I understand. I have the thumbdrive–
AMBASSASDOR
You only have 18 minutes–
BAUER
Till the bomb goes off. I know!
BAUER weaves through the crowd toward the street. Ahead we see a minivan taxi cab pull up. Bauer waves for the driver's attention. Just as the sliding side door opens, BAUER jumps inside.
INT: MINIVAN TAXI
BAUER
Museum of Modern Art — go!
BAUER throws the door shut and straps himself into his seat.
Suddenly, multi-colored lights dazzle from above, drawing BAUER'S wary attention.
BEN BAILEY
You are in the Cash Cab. It's a TV game show that takes place in my taxi.
While the taxi driver continues speaking, BAUER hurries to unbuckle himself and slides the door open, ready to get out.
BAUER
I don't have time–
BAILEY
— and win hundreds of dollars. What do you say?
Intrigued, BAUER paused then ultimately closes the door one last time.
BAUER
OK – but hurry. Museum of Modern Art! Go! Go!
BAUER thumps the headrest of the passenger seat.
BAILEY
What's your name?
BAUER
Jack.
BAILEY
First $50 question: In the 1987 movie Lost Boys, what was the one thing grandpa could not stomach about living in Santa Carla?
BAUER
Vampires.
BAILEY
Correct! Next question: Known as the Regulators who fought in the Lincoln County War in 1878, its membership included William Bonney, an outlaw more famously known by what name?
BAUER
I have no idea. Jesse James.
BAILEY
No, I'm sorry, that's incorrect. Billy the Kid is the answer. That's your first strike. Two more and out you go.
Though traffic is moving briskly, BAUER peers out the taxi windows, his hand thumping the headrest in front of him.
BAUER
You need to go faster.
BAILEY
The title of this song by The Champs is also the name of an alcoholic beverage made from the blue agave plant.
BAUER
Tequila. Come on! Go around him!
BAILEY
This short story by Stephen King centers on the friendship of four boys coming of age as they search for a missing teen presumed dead.
BAUER
I don't know.
BAUER tries to shake the answer out of his head.
BAILEY
I need an answer.
BAUER
It?
BAILEY
No. Sorry. The short story was called "The Body."
Two strikes now.
Next question: In order to ensure continuity of government in case of an attack, what is the term for someone in line for presidential succession who is kept away from events where others are gathered, such as an inauguration or a president's address to Congress?
BAUER flips open his phone.
BAUER
I'm going to call someone.
BAILEY
Ok, you're going to give a mobile shout out. Who are you going to call?
BAUER
Her name is Chloe. We work together.
BAILEY
Ok. Let's hope Chloe can help. Good luck.
BAUER rings up CHLOE's direct line. The phone is answered and before CHLOE can say a word—
BAUER
Chloe, I need your help.
CHLOE
Jack? Do you have the thumbdrive? Where are you?
BAUER
I have it. I'm in a cab on my way there.
CHLOE
Better hurry. They want that drive or the bomb goes off.
BAUER
I'm on Cash Cab. I need you to answer something.
CHLOE
You're on Cash Cab?
BAUER
Yes, the question—
CHLOE
That's so cool. I've always wanted to be on that show.
BAUER
Listen—
CHLOE
I mean Bailey is such a hottie. Don't tell him I said that. Or you could. I mean, maybe he'd like to know.
BAUER
Listen to me! We don't have much time. What is the term for the person who is in line for becoming president and is placed in a secure location when other members are all gathered?
CHLOE
Designated survivor! You should know that one. Tell Bailey–
BAUER clicks off the phone and repeats CHLOE's answer.
BAILEY
Correct! Still have ten blocks to go and you only have one more strike.
BAILEY
These 1990s movies, Flatliners and A Few Good Men, featured this talented actor who is no more than six degrees away from you.
BAUER
Uh, Kevin Bacon.
BAILEY
Correct. Next question: The memorable characters Athos, Porthos, and Aramis, who formed the Three Musketeers were the creation of which French writer?
BAUER
Victor Hugo?
BAILEY
No, sorry the answer was Alexandre Dumas.
BAILEY guides the taxi to the curb and puts it in park.
BAILEY
I'll have to let you off.
BAUER
What? I need to get to the Museum!
BAILEY
Sorry those are the rules, which you agreed to. But you got a free ride and something to talk about with your friend, Chloe. Thank you for playing.
BAUER unstraps himself, slides open the door and jumps out.
EXT: NYC street.
BAUER looks ahead at the many blocks choked with pedestrians he'll have to get through.
The camera takes flight, rising up from our hero and looking down as the taxi pulls away. View goes higher and higher, keeping BAUER and the departing cab in frame. Farther out still as the cab travels 6th Avenue. The Museum of Modern Art building appears in the upper right corner of the screen.
Then it explodes.
Fade to black as screams can be heard.