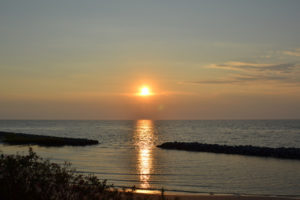 Having read Pat Parsons' memoir of her childhood in Cape Charles, Va., I knew it was a place I wanted to visit. I contacted her, telling her of my intention. Her replies were effusive; each email filled with recommendations atop recommendations.
Thus prepared, my wife and I took off for the Eastern Shore, an easy drive from Richmond, and checked ourselves into the Fig Street Inn. Our lodging reflected the town, having a charming, humble, friendly character. The walkable town has a central park, a main street of shops and eateries, and an accessible beach where the Chesapeake laps gently.
The highlight was a splendid dinner at the Oyster Farm Seafood Eatery with a view of the water as the brilliant sun descended, ultimately dissolving into the darkening bay.