Welcome to my Working Title inaugural podcast. I interview friend and fellow James River Writers' member Bill Blume. He has written a fun teen read called Gidion's Hunt,* published in 2013 by Fable Press. You can visit him on the web and follow him on Twitter: @BillTheWildcat.
With this debut novel, we discuss Bill's writing process, finding inspiration in the USA network show, Burn Notice, snagging a publisher, and much more.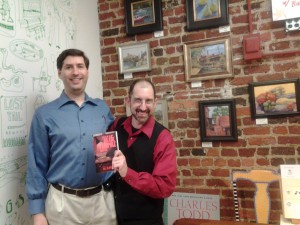 What did you think of the podcast? Would you like to hear more? Be sure to pick up Bill's novel and let us both know how you liked it!
* Bill's book was initially released under the title, Tales of a 10th Grade Vampire Hunter.
† Intro and outro music in the podcast is called, "The Strategy."